...that would be the planning stages, in case you're wondering. Don't get me wrong, the shopping and the execution are pretty freakin' awesome - but I'm a die-hard list-maker. I write instructions for myself when I build things, I draw pictures for weeks, even months before I actually begin to work on a room, and I can't function without a to-do list to work from, most of the time.
Yeah, I'm a big dork. But I'm an
organized
dork, so
:P
Dining Room Redesign, Part the First: The Table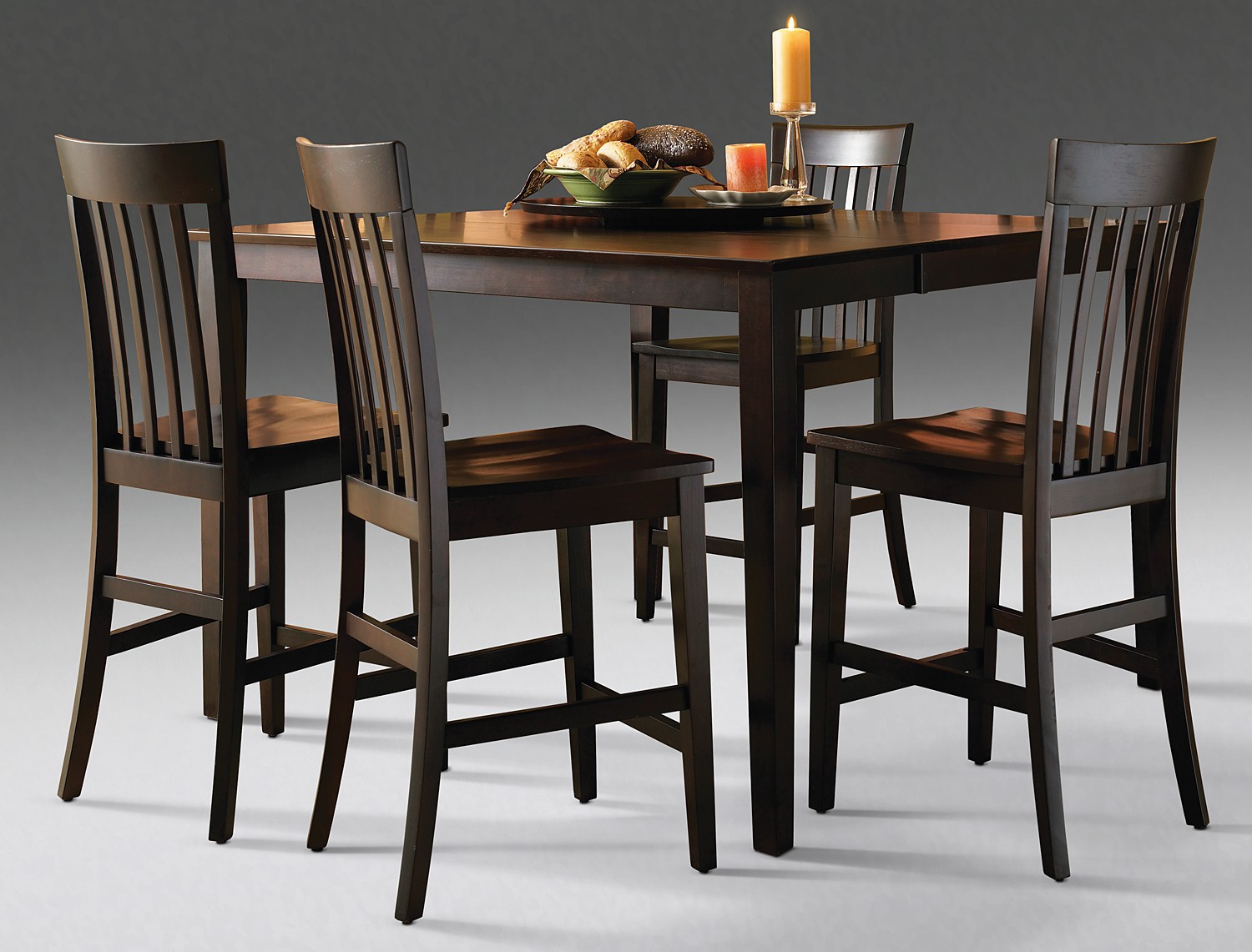 After hemming and hawing and trying to figure out what to do with my dining room for a couple of years, I finally realized that the main problem was the table. It was the Wexford table from The Roomstore, which you see here on the right (although mine wasn't counter-height, it was standard dining table height).
I had two of them, actually - the second was used for a while as a coffee table, after I'd taken the legs to Home Depot and had them cut them in half for me (this was years ago, before my adventures with Serious Power Tools began). Both tables were 2x4' and open up to 4' square, with a built-in leaf that slides under the tabletop when not in use. Pretty nifty.
And don't get me wrong, I loved my dining room table. But it was WAY too big for the space that I have now, which is only about 10x11'. Last week I sold both tables on Craigslist to make room - and money - for a new one.
The original plan was to build a copy of this one, which is the "Hemnes" side table from Ikea. Clean and simple, with a nod to and twist on the traditional - and
easy
to make out of plywood. I figured I'd double the thickness of the base pieces for stability, and enlarge the top (the original Ikea piece is only about 27" across).
Paging through Craigslist ads, however, I managed to find a little round table that was
perfect
. It's almost identical to this one (which is World Market's "Charlotte"), but it's
black
. It's solid wood, 40" across, which fits my space better. It's also practically brand-new, as the woman who sold it to me had never actually used it. Best part? Fifty bucks!
Part the Second: The Plan
So where does this fit in?
This is what my dining room, up until this week, has looked like:
Made with Icovia's Space Planner, found on the website of Lane Furniture.
I love playing with this thing.
You can see here what that large, rectangular table was doing to the dining room space: there's barely enough room to walk around it, to say nothing of actually seating people at it Almost nothing else fits into the room except for my china hutch (the cabinet-y looking thing at the top next to the dog food bin).
(Part of the reason the dining room is so small is that it isn't actually a dining room. According to the people who built my house, this is supposed to be a "breakfast nook", and they intended for me to put my dining room table in my very long living room. I've never liked that idea, and since I usually eat in the living room in front of a movie or with a craft project spread out on the coffee table, I decided to use the "breakfast nook" as a dining space, since it wouldn't get used much. I use the "dining room" portion of my living room as an office).
Here it is with the round table I've just purchased - as well as another new addition that I plan to begin working on in the next few weeks: a window seat. I haven't decided yet whether I'll build one in permanently, or if I'd rather just stick a pretty bench under the bay window.
This is a sketch I did a few weeks ago when I was just
sure
I'd be building the Ikea table and a full-on window seat. Here you can see the idea for the rest of the bay window space - ultra-sheer curtains hung across the entire bay, making the bench a little secret place
behind
the room. The curtains can be pulled back to use the bench as seating at the back of the dining room table.
I probably should have drawn several cats on the bench, since that's probably who will likely be sitting there more often than not. Hee.
I'm not entirely sure what that big rectangular thing on the west (left) wall is - a mirror? Large piece of art? At the moment I have a pretty Indian-looking paisley scarf up there on a carved wooden tapestry hanger. It may or may not stay.
I'm not sure how quickly this will all take shape. I'm busy preparing for a six-day camping trip that I'll be going on next week, so I'm certainly not working on it before then. I have some tweaking to do with my dining room chairs and that big china cabinet; and then there's the window seat and sheer curtains to deal with. I'll post photos as I go, though, so you can see the progress and final result. :)