Two months later...! Man, I'm bad at this. I promise to get better, though. :)
In
June
I talked about the round table I'd been looking for/thinking about building for my dining room, and the one I found on Craigslist for only $50 which was
perfect
: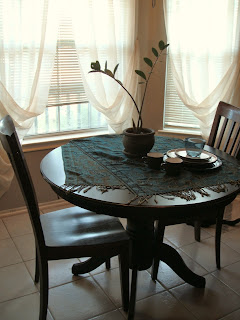 I showed you a couple of my plans for the room...
...Which is coming along pretty well so far:
catbomb!
My heart wants new chairs - the
Agra
and
Rajani
(wood, not white)
from World Market, in fact - but next on the list is the bay window. As you can see in the sketch above, and the
floorplan
I posted in June, there's a window seat missing from this photo.
I waffled for the past two months about whether to build an actual window seat that looks like it came with the house, or to build or buy a cute little bench to stick underneath the window. I have a bench-top with no legs that I may set up in there for the time being, but I've decided to go ahead and build a "real" window seat, mostly because of the storage opportunities it will offer.
First things first, though: sometime in the next month or so I'm planning a Curtain Excursion to Ikea, where I'll get (among other things) the
LILL
mesh/mosquito-net-like curtains I want for this bay window, along with the
DIGNITET
tension-wire system to hang it across the entire bay (like in the sketch above).
I'm also planning a trip to the hobby store at some point this week to buy some leading for the windows in the china cabinet. I absolutely adore diamond-shaped leaded windows, and I'd drawn some lines onto the glass windows in the hutch with a Sharpie to test-drive the look:
...and I LOVE it. I can't wait to make it more permanent. :) I haven't decided whether to paint the insides of this piece
teal
yet; at the moment, I'm leaning towards not screwing up a gorgeous piece of furniture. But it
does
need new hardware, and I'm nine kinds of excited about finding something awesome to use.
I'm also on the hunt to find the perfect mirror or artwork for the empty wall opposite the china cabinet. I have a great frame I could use there, but nothing to put in it...yet. Onward, to teh internets!
P.S. - Whoa, this is my 50th post! I'm such a n00b, lol. ;)
.